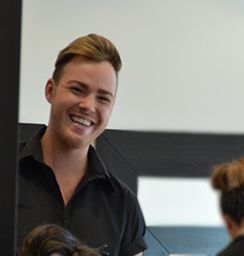 About Rae
Stylist
Rae has been a qualified stylist since 2007 and enjoys all aspects of hairdressing, especially making clients look and feel fantastic.
Rae trained at Carshalton collage and he has attended several L'Oreal® courses.
About Sofia
Senior Stylist
Sofia started working at Seven in September 2012, shortly after finishing her A-Levels. She attends college one day a week,training to become a hair stylist, while the rest of the week learning all aspects of working in a salon at Seven. Sofia is also booked to go to the L'Oreal® Academy to take a colour course to further her training and expand her knowledge in the hair industry.
About Nadia
Junior
Nadia has been working part time at Seven for 3 years while studying for her A levels. She has now secured a place at Sussex University studying Hair and Make-up for Theatre Arts which Nadia realised she loved whilst working at Seven as she also works as a Session Stylist putting hair up in the salon. Nadia enjoys working in the salon, attending to the clients needs and assisting the Stylists and even though she's off to University we're sure she'll be popping back regularly.